NEW YORK CITY CAR ACCIDENTS LAWYERS
If you are in an automobile accident, you may be wondering what kind of litigation you should file in New York City. You may also wonder what kind of damages you should be compensated for.
In the State of New York, you may be entitled to recover compensation for lost wages and medical bills, pain and suffering, property damage including but not limited to cars, medical supplies, pain and suffering, and more. If you have been in a car accident caused by someone else's negligence or wrongdoing, you may be eligible for compensation as well.
It is important that you contact an attorney immediately after you are involved in a car accident, even if it appears that you were not at fault. An attorney can give you advice on your rights and options that may be available to you.
There are some things you should know if you have been in a car accident and believe that you have been injured. First of all, call 911 immediately. Even if you are sure that there is no one else involved with the car, you may still want to get an ambulance called. A police officer will take pictures of the accident to help in your case, and they may be able to write a report that has all of the details on the accident.
Have all of your information ready when you speak with the adjuster, so that everything you say makes sense. Be sure to provide as much details about the accident as possible. You want to seem objective, and so it is a good idea to be as forthcoming as possible. For example, if you had to swerve in front of a vehicle to cause the accident, tell the adjuster about this.
If you are involved in an accident that involves another vehicle, it is important to talk to your insurance adjuster immediately. In most cases, an accident report must be filed within thirty-five days, but if you delay it, you may be found liable for punitive damages or for not reporting the accident in the first place. If you are found liable, you could be hit with a large fine, a suspended license, or even have to go to jail. If you are involved in an accident, make sure to document everything.
What will happen after your adjuster gives you the notice? Your next step is to get an insurance agent. Find an agent that you can trust and who will handle your case well. This will help you in the long run and you will not have to deal with your insurance adjuster anymore. Some insurance agents will try to take advantage of clients like you, so it is important that you find an agent who treats you as an individual and not just as a client. If you are dealing with an insurance agent who is already being difficult and is less than helpful, you should probably find a different insurance agent.
Make sure that you listen carefully to everything your insurance company has to say. Don't get intimidated and try to leave the meeting with more questions than your adjuster has to answer. You want to be as thorough and detailed as possible, but if you don't seem to be taking notes well enough, they may not want to work with you in the future.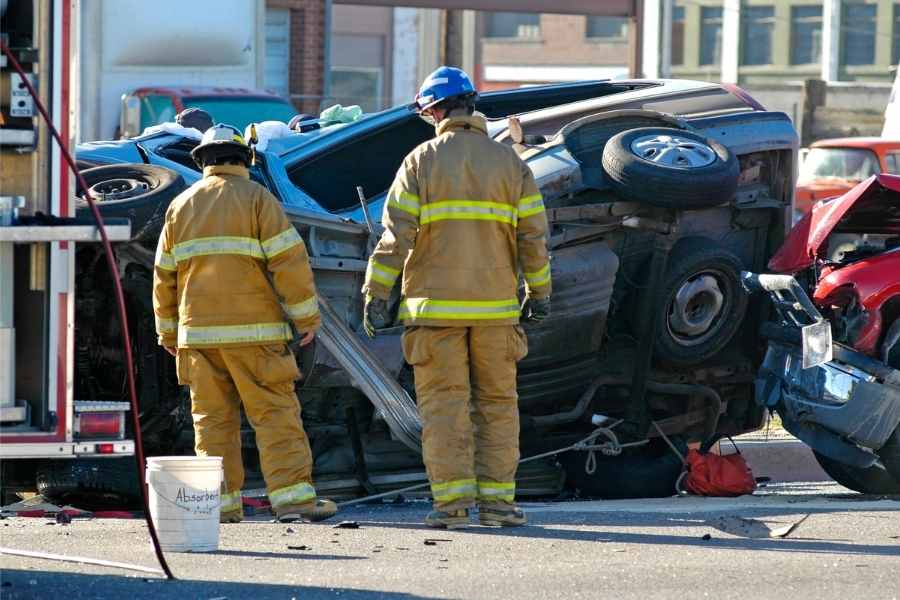 How do Car Accident lawsuits work?
Car accidents are horrible things that can happen to anyone. Unfortunately, when one happens, there is usually damage to the vehicle and sometimes personal injury as well. That's why if you or someone you know has gotten a car accident in New York City, it's important to understand how to do car accident lawsuits work?
When filing a car accident lawsuit, you must first prove that there was a negligence issue leading up to the event. You can do this by simply collecting witness testimony, pictures, video or any other form of evidence that can show negligence. You will also have to provide enough evidence to show that monetary damages were sustained as a result of the car accident.
The New York State Tort Law allows you to collect witnesses' names and telephone numbers to prove that they actually saw the accident occur so you can collect damages for your medical bills and other losses. Lastly, the proof of negligence must be enough to show that the driver of the other vehicle knew about the accident and did nothing to avoid it.
After the accident, first you and your family and friends must deal with the damage. The next step is to hire car accidents lawyers who can help you get the compensation money from the insurance company. In most cases, victims are not offered compensation if the person at fault was insured while driving the vehicle. The lawyer can negotiate with the insurance company for you.
Good car accidents lawyers are well informed about all the laws that are applicable in your state. He knows how to deal with insurance companies and police. You need someone who knows about traffic laws and how to get the maximum compensation for you. It is important to have someone with you who is well informed and familiar with the traffic laws of your state.
Hiring car accidents lawyers are the best way of getting full compensation for all the injuries and damages that you incurred. A good lawyer can help you get compensation for medical expenses and lost wages. He can also help you in recovering the medical bills and other expenses incurred as a result of the car accident. You can also claim for the payment of your lost earnings and all the other out-of-pocket expenses that resulted because of the car accident. It is always advisable to get the help of an experienced lawyer in such cases.
Why hire Car Accidents lawyers?
In the state of New York personal injury claims are not normally successful unless personal injuries are sustained as a result of automobile accidents. In New York City, an attorney can help you receive full compensation for injuries that you have sustained as a result of car accidents in New York City. The personal injury law in New York provides the necessary protection and guidance to those who have been injured in automobile accidents. An experienced personal injury attorney can give you advice on how to obtain the maximum amount of damages from the party responsible for the accident.
The personal injury attorney can help you deal with insurance companies that are responsible for paying for your medical bills resulting from injuries sustained in the automobile accident. This is the most common reason why people get sued.
It is very important to be prepared with an efficient personal injury lawyer that will represent your case in court and do all the required things to get as much money as possible for your suffering. A good attorney will work on your behalf to prove that the other party is liable and will file the appropriate paperwork with the court and get you the amount that you should have gotten after the accident.
Good car accidents lawyers will be able to get the best deal for you since they are familiar with the system and all the laws that govern it. Your accident lawyer will be able to fight for your right to compensation and he will be able to get you the maximum amount you deserve.
You need to hire car accidents lawyers when you are involved in an accident, not just any lawyer will do. Hiring unreliable car accidents lawyers can mean losing your claim. You need to find car accidents lawyers with experience in handling auto accidents so that your claim is more likely to be awarded. There are many good lawyers out there but it is important that you find one who has handled cases like yours.
Even if you feel that you know what happened, you may not be able to prove that the other driver is at fault. That is why a good lawyer is so important. They will be able to gather the evidence that is needed to present your case in court. You want them to do their best for you and to get the compensation that you deserve from the negligent party. They can even negotiate a fair settlement that is just right for you.
If you have been in a wreck like this, then you know that it could have been much worse. If you are in need of some immediate legal assistance, do not hesitate to contact an accident attorney as soon as possible. They will be able to assist you in getting the appropriate medical attention and legal representation. This will give you the best chance at a positive outcome.
How Do I Choose the Best Car Accidents Lawyers?
You will need to make sure you feel comfortable with this attorney before you provide them with any kind of information that could be used in your case. If you are interviewing them, it is a good idea to have a written list of questions so you can get a good feel for how they will work with you and what they will do for your particular case.
It is important to have a written account of all conversations you have with the attorney before you sign anything or enter into a binding agreement. If an attorney asks you specific questions that are not in the law, you will want to make sure you have these written responses to protect yourself.
In conclusion, hiring a personal injury lawyer is an important decision and one that should be made carefully. As you can see, there are many considerations to think about when choosing this type of professional. You want to be sure you are getting a lawyer who will be on your side throughout the process so you do not end up paying for legal work you didn't ask for. If you have any fear of not getting what you want in the legal field then this is the perfect choice for you. Think about hiring a lawyer now so you don't have to wait. You can have a legal professional who will work with you until you are completely satisfied.
Choosing the right Car accidents lawyers in New York City
Are you looking for car accidents lawyers in New York? Well, you have come to the right place. New York is known as the no-fault state when it comes to automobile accidents. So, what does this all mean to you as a victim of such an accident?
It means your insurance company will probably be liable for paying you for lost wages, medical expenses, and other injury-related damages. If you have been injured in a car accident in New York City, you have a very good chance that you can get a settlement from the other party (the one who hit you) in a court of law.
That's not all. Even if you suffered serious or fatal injuries in the accident, you can still recover some damages from the other party. In the past, it was very common for victims in car accidents in New York City to sue the other party on the basis of no win, no fee.
However, you should know that there are certain hurdles that may stand between you and your desired compensation. First, you have to prove that you were indeed injured in the accident. Second, your damages must exceed the total amount of your medical bills. And third, you have to convince the judge or the jury that you deserve compensation for your serious injuries because the other party was at fault.
The first hurdle is pretty easy to overcome. You only need to show that you were injured in an accident. How is that possible? It is very easy. When you suffer serious injuries due to the negligence or recklessness of the other party, you can file a lawsuit against them on your own behalf. If they are willing to settle out of court, they will at least have to bear partial responsibility for your injury or the injuries of your loved ones.
The second hurdle is even easier to cross. The victim has to somehow prove that the other party was at fault. It could be difficult, but if the case goes to trial, the insurance company of the party that was at fault will have to prove that the driver of the other vehicle was not under the influence of alcohol or drugs at the time of the collision. This could be difficult to do, but it is important for the victim to file the lawsuit.
Lastly, the accident victim in New York City has to convince the judge or the jury that he or she deserves a reasonable settlement. This is the only way to gain enough compensation to cover all medical bills, repair costs, and future loss of wages. If the settlement is too low, the defendant might try to claim that the accident was not their fault and thus avoid paying any damages at all. Many car crash victims simply accept the fact that they will never find a good settlement because of this "logic."
The best way for someone who has been in a serious car crash to receive full compensation is to hire a reputable New York car crash lawyer who can guide them through the process. They will not charge up front and won't ask for any payment until their client has a settlement. For some people this is not an option, since they already have a job or a monthly pay that will cover unexpected expenses. In this case, the best course of action is to take out a personal loan to cover any unexpected costs.
Another way to pay for an attorney is to sell any assets owned by the victim in order to raise the money necessary to pay off the debt. Whatever method is chosen, the aim should always be to get as much compensation as possible, with the exception of dealing with a no-fault rule.
When filing a personal injury lawsuit, victims of minor accidents often try to delay the proceedings in order to avoid paying any money, but this is often a mistake. A personal injury attorney in New York City will know when a settlement has been reached and will aggressively pursue it. Because of the no-fault rule, victims may receive less than they deserve, if they are able to avoid the courtroom system altogether. Car accidents lawyers in New York City are familiar with all of the tricks victims of minor accidents use in order to get themselves out of the car without having to pay the settlement they deserve.
We Handle All NYC Car Accident Cases
Auto / Vehicle Accident
Motor vehicle Accident
Truck Accident
Bike / Bicycle Accident
Railroad / train Accident
Traffic Accident
Motorcycle Accident
Bus Accident
Taxi / Cab Accident
Maritime Accident
Subway Accident
Boat Accident
Airbags Injury
Distracted Driving Accident
And more…
Truck accident:
You need to hire experienced truck accident lawyers in New York City if you suffer from an injury caused by a motor vehicle accident in New York. If you are seriously injured in an accident caused by a truck or tractor trailer, contact experienced lawyers