NEW YORK CITY CONSTRUCTION ACCIDENTS LAWYERS
Accidents at work are inevitable but when they happen so often it is wise to seek the advice of a qualified construction accidents lawyers to help victims recoup some of their losses. Workers who become seriously ill because of accidents in the workplace are entitled to compensation to help them deal with the grief and confusion brought about by the experience. Some workers are too scared to go to work after being exposed to certain substances that may be harmful to their health. These types of cases generally involve toxic materials or substances that cause serious injury or death.
There are different laws in place for those who were injured on a construction project. The employees who were injured must notify their employer immediately if they are injured. Also, they have the right to file a claim against the company that is responsible for the safety and sanitation of the work site. In addition to filing a claim, employees have the right to sue the builder and the company if the accident was caused by negligence. These lawyers are very familiar with construction law so if you have been injured at work, then it would be wise to seek the advice of someone who is a specialist in this area.
The first step in hiring a lawyer is to make a statement outlining all the details of your injuries and damages. An experienced construction site attorney will gather this information and assess your case before advising you on how best to proceed. They will assist you with every step from filing a lawsuit to collecting and distributing the settlement money. The lawyer will also provide advice to you about your workers' compensation claim, whether it is worth pursuing or not. They are there to guide you, not to represent you.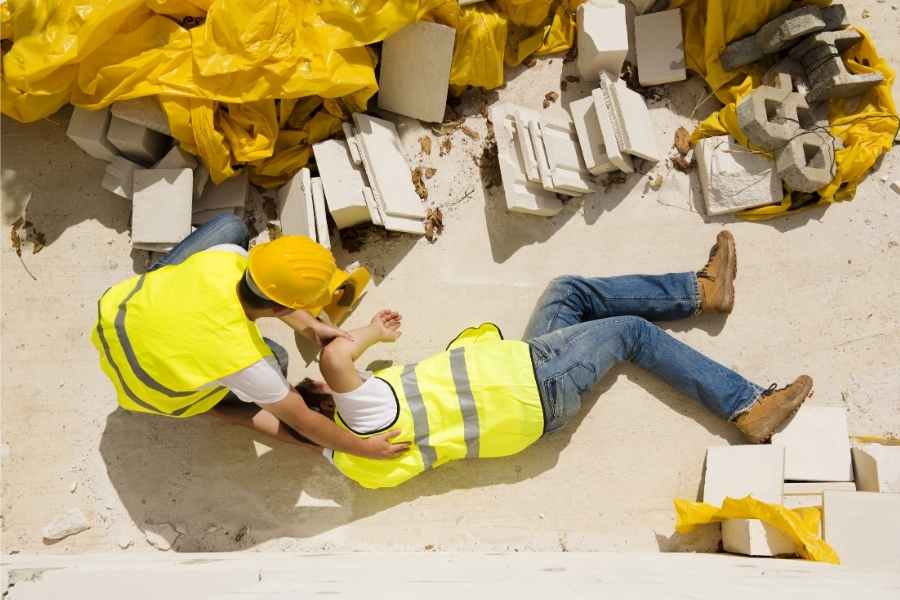 Four Causes of Construction Accidents
Are you one of thousands of construction workers who were injured while on the job? Unfortunately, New York construction accidents can happen to anyone, at any time. Unfortunately, these injuries can lead to financial loss and pain for not only the construction worker, but for his or her family as well. But you don't have to suffer from these injuries or loss of income without the help of experienced construction accidents lawyers. An experienced New York City construction accidents lawyers will fight for your rights and fight for the compensation you deserve.
Unfortunately, sometimes employers take shortcuts to save money on construction projects. These shortcuts often result in damage to you and your family that is extensive and long-lasting. However, when you are injured on a construction site accidents, pursuing compensation for your injury is one of the very best things you can do.
Don t trust any construction company with your New York City construction accidents cases. You need a qualified, experienced NYC construction accidents attorneys to fight for your rights and secure the compensation you are entitled to. It is better to choose an attorney well-versed in construction law, OSHA safety regulations, and safety litigation, than to allow one of the many construction hazards to occur.
Many construction accidents result in personal injury lawsuits for the construction workers as well as the employers.
Some construction companies actually monitor their employees' work activity and check on the progress of the work, but when accidents happen, they often try to avoid paying compensation to the injured workers. In some cases, they even try to avoid paying you, keeping you from collecting your medical bills and other bills from the injury.
There are many serious New York construction accidents that result in permanent injury or death of a construction worker. When a construction worker suffers a back injury, there is a strong chance that he will also suffer from long-term injuries. The workers may also suffer from long-term psychological effects due to their back injuries. Electrocution is another serious injury that results from construction work. If a construction worker is electrocuted on a job site, he may suffer permanent brain damage or death.
These are just four causes of death commonly known to occur on construction work sites. However, these are not the only four causes of death that construction workers can suffer from. There are many more serious and fatal construction accidents that can occur anytime on a construction work site. Because of this, it is very important for anyone working on a construction job site to seek the advice of qualified construction accidents lawyers whenever any of these problems occur.
These lawyers specialize in construction site accidents, and they have extensive experience with handling these types of cases. They know all about the hazards that come with the construction work. In addition, they are familiar with the legal aspects of these construction jobs. Therefore, if you have suffered a death or an injury due to one of these construction site accidents, you should immediately contact one of the experienced lawyers in the New York City area.
Construction Accidents Attorneys
The best New York City construction accidents attorneys in the country are devoted to providing justice and reparations to injured construction workers. With a proven record of success across all five boroughs of New York, a team of prominent New York established lawyers and award-winning trial attorneys bring more than 80 years of combined experience to every successful case, defending injured workers and families who have suffered an unnecessary loss due to the negligence of a construction company.
They also aggressively pursue the misappropriation of benefits through multiple legal avenues so that every worker and family are sufficiently compensated for their pain and suffering and economic losses.
While no worker wants to be hurt on the job, everyone understands that accidents happen. Workers should not risk their lives and health on the site because they do not understand or agree with the company's rules and safety regulations, nor do they feel safe working at such a dangerous site.
When an accident happens on the site, it is imperative that experienced New York construction accidents lawyers are immediately called to provide adequate legal representation to the workers injured and their families. By promptly contacting a personal injury attorney as soon as an accident occurs, injured workers can avoid the possibility of further injury or worse mental and financial damage due to their company's negligence.
A construction site is a dangerous environment for anyone who works there. Working without proper safety precautions or knowledge can lead to serious injury or even death.
OSHA rules, and regulations, as well as local and state laws, are designed to ensure that construction sites are safe for workers. However, despite these rules and regulations, construction accidents occur regularly. When an injury occurs, injured workers must immediately contact a legal professional to seek a construction accident settlement.
Many times injured workers will try to resolve their claim with their employer, but the experienced construction accidents lawyers, properly representing them, will often negotiate a fair settlement outside of the court system. In most cases, injured employees will be able to recoup a large portion of their claimed injury award in settlement negotiations.
It is up to the injured worker to hire an experienced law firm to represent them in their efforts to recover the money they deserve. In many construction accident claims, it is common for workers to be eligible for medical benefits and lost wages. It is important to keep this in mind when contacting a law firm specializing in New York construction accident claims.
Another danger at construction sites is falling from high work platforms or from machinery. Repairs may be necessary as a result of this accidental injury. If a worker is injured and cannot get back to work due to the circumstances caused by his defective or dangerous equipment, he should contact a law firm as soon as possible. It is better to get hurt and recover sooner, rather than later.
There are construction-site accidents that result in minor injuries or none at all. Workers who do not receive medical attention or are not protected by safety equipment may also be responsible for these types of cases. The injured party should not try to sue the company in itself. Instead, they should contact experienced construction workers' accident attorneys. In general, construction workers' lawyers are familiar with all aspects of the laws surrounding labor laws and will know exactly what to do to successfully obtain a case.
What are the benefits of Hiring Construction Accidents lawyers?
Construction accidents can be incredibly painful, costly, and even fatal. Because these types of accidents often involve very heavy equipment, workers can become seriously ill from the exposure to dangerous materials or lack of protective gear. A qualified construction worker should seek immediate medical treatment from a doctor specializing in New York construction accident case if he or she sustains an injury as a result of a construction-related accident.
Many victims of such accidents are unable to work again, losing years of their life. For these people, a lawyer working on their case will be invaluable. A professional lawyer can help ensure that their families are provided for and have the settlement they deserve.
The lawyer will provide a knowledgeable, friendly presence during a case conference. These sessions are often tedious, but a good accident attorney will always remain calm and composed no matter what is going on. They will carefully listen to each side of the story, answer any questions the client may have, and help them through the process.
This level of professionalism is also very important when dealing with employers, because often a company will try to have a law firm focus on their case while neglecting their own needs. For this reason, the right lawyer will make sure each case is given the attention it deserves.
Another thing that a skilled lawyer will do for his clients is to assess whether or not they have a case. If a lawyer has worked on many cases similar to yours, they will easily be able to assess your situation and find out whether you have a valid claim. The lawyer will also be able to help determine whether or not you have a case that is eligible for a class action, which can be extremely helpful.
Having a law group to look over your case will not only help decide if you have a valid claim, but it can also give you the confidence to pursue your case and receive the compensation you deserve.
Many of the benefits of hiring a professional lawyer are incredibly important for workers who have been injured on the job. It is never easy to deal with serious injuries, and when they occur on the job it can be even harder. That's why it's so important to hire a qualified professional to represent you when you are looking for compensation. The lawyer will be able to assess the severity of your injury, and help you find the best possible legal representation. There are many benefits to working with a lawyer who is experienced in accident claims and worker's compensation, including:
Hiring an experienced attorney can be essential to your success as a victim. While the law firm may have the experience needed to get you the best results, you must still have a strong case in order to stand a chance against your opponent. You want a lawyer who will fight for you with every resource at his disposal. If you want to know "what are the benefits of hiring New York construction accidents lawyers?" Then consider making an appointment today.
How A Construction Accident Lawyer Can Help You?
Construction is a very dangerous industry. Even with the most up-to-date equipment and training, the people who work in construction place their own safety and their health on the line each and every day. Tools can break, materials can go wrong, and even when an experienced worker is on site, accidents can occur.
That is why it is so important to hire qualified NYC construction accidents lawyers if you or someone else gets injured while on a job site. If you have been injured, then you need to know what you can expect as well as what you should do after being injured.
One of the first things you should do after being injured is to see a doctor. Even if you are sure that you will be okay, seeing a doctor can keep you from making a poor decision about your next move. While you should not expect your doctor to be an expert in construction law, at least he or she can point out your rights as well as explain why you were injured.
The best thing that you can do if you are injured on a New York City construction site is to hire an experienced construction accidents lawyers. An attorney who specializes in workers' compensation for construction workers can help you understand your rights and help you get the money you deserve.
Workers' compensation is the main reason that the NYC construction accidents lawyers are necessary. This type of law covers a variety of common types of accidents that can happen on construction sites. Some of the more common types of injuries covered are slip-and-fall injuries, electrical injuries, and neck and back injuries. Workers' compensation laws help injured workers make sure that they are paid for their time and lost wages. As well, workers' compensation helps employers make sure that injured workers are properly compensated.
One of the most common types of construction worker accidents involves falling from a height. Most workers are not used to being off of the ground, so when this happens they can have a hard time getting back in place. In addition, most construction workers are not trained to perform tasks like cutting, welding, sawing, or digging. Because of these skills, workers' compensation laws to help injured employees get the medical attention they need and are able to return to work as soon as possible.
When a construction workers gets injured, their first priority is going to be to get better. Workers' compensation laws also protect injured workers from having to pay for missed time at work due to their injury. While some employers may try to have their employees sign a release form, signing it won't release the employer from any responsibility should an injury occur on the property of the employer.
Experienced construction accidents lawyers will know all about these common types of injuries and how to handle them. If you or someone you know has been injured on the job, you should contact our NYC construction accidents lawyers right away. Workers' compensation is a very complex area of law, but with the right legal assistance it is easy to get the justice you deserve. If you are injured on the job, you should contact a qualified construction workers compensation lawyer today.
Do I Need a Construction Accident Lawyer?
If you have been injured in an accident caused by another person's carelessness, negligence, or recklessness, you may need to consult with a construction accident attorney as soon as possible. Before you seek legal counsel, however, you need to decide what your next steps should be. For starters, you need to determine if you need construction accidents lawyers specifically trained in this area.
You will need an individual who has completed an approved training program and has passed the board's certification examination. In addition, you will need an attorney who can navigate through the litigation process that surrounds your case, especially in the local court system in your area. An attorney with this level of expertise will be able to provide you with the kind of expert advice that you need and deserve.
Another thing to consider is whether you need personal legal representation. Personal representation is typically only available to individuals who can afford to pay for the cost of a lawyer. If you are unemployed or working under a tight budget, this may not be feasible. This is another reason why it is so important that you obtain legal counsel as soon as possible.
When you take the time to ask yourself these questions, you will likely find the answers that you need. The next logical step after knowing whether you need construction accidents lawyers are to find one who can help you with the case that you are currently dealing with. This will ensure that you receive the kind of expert guidance that you need so that you can get back to work as quickly as possible.
How Do I Choose the Best Construction Accidents Lawyers in New York?
If you are a victim of an on-the-job accident or suffered injuries on the job, you may be wondering how do I choose the best construction accidents lawyers in New York? There are many factors to consider and you will want to keep them in mind when choosing one.
If you were injured on the job, you will need to take your medical bills and other expenses with you to the initial consultation with your lawyer. It is best to document all your medical expenses and prescriptions so that when you file a claim, your medical bills can be paid without hassle. Keep these items in a secure place so that when your lawyer asks for it, you will have it readily available.
In the state of New York, there are many different types of workers' compensation programs that are in place. These vary depending on the state of New York, the amount of injury that you have sustained, and the type of work that you have done. Most construction sites have overtime and other labor-intensive jobs that can lead to severe injuries on the job. If you have any sort of physical or mental injuries as a result of such work, your first step should always be to contact your union or the employee's union and let them know about your symptoms.
The next step is to file a claim. If your employer is not negligent, they will have to pay you for your lost wages, medical bills, and other expenses that result from your accident. However, if the injury is severe enough to prevent you from working, your employer may be liable for your lost wages and medical costs, even if they were not negligent.
If you are filing a claim under the workers' compensation laws for serious injuries, you will likely have to go to court to get your compensation. The rules and regulations regarding the filing of this type of claim vary by state.
In case you have been working on a building site and have been tripped and fallen due to equipment malfunction, you may qualify for workers' compensation benefits. For a woman injured due to being in an automobile, your lawyer may suggest that you visit New York City's Webster Hospital. If your car was not at fault in this accident, your lawyer may also work on a case to try to get compensation for your pain and suffering.
For those who work on multi-million dollar projects, it is important to make sure that you have legal rights and protection. Many contractors work in close proximity to construction workers. They may not know that the workers have certain legal rights and protections that will help them if there is a serious accident at work. There are many personal injuries that can occur on a construction site.
Many construction workers have suffered injuries such as broken bones, spinal cord injuries, back injuries, and other types of serious physical injuries from being in unsafe work environments. These types of cases often require a lot of legal assistance from lawyers who specialize in construction law.
You have the right to be protected and you should find out what your rights are as a construction worker. You may be able to file a claim against your employer. If your boss does not have a good safety record, he may be liable for his employees' injuries. Your attorney will help you determine whether or not your employer is at fault and will then help you get the compensation that you are entitled to for your injuries.
We Handle All Construction Accident Injury Cases
We understand the complexities of every construction accident injury case. We know the minutiae of the law, and our experience helps us determine where to file a claim. Whether you are a construction worker injured on the job or not, there are New York construction accidents lawyers who will guide you through the process from start to finish.
We also have lawyers who work exclusively with major construction companies and on both minor and major projects. If you have been injured on the job, we can assist you with the requisite forms to file a claim with your employer. We provide this service free of charge, so you do not have to pay anything out of pocket for our assistance.
We handle all construction accident injury cases, both on-site and off-site, because we understand the sensitivity of the matter. The victims of construction accidents are often clients who have been injured while on jobsites. Some of them may have permanent injuries, while others need to visit the doctor on a regular basis.
The first thing you need to do before contacting us is to get a list of our attorneys in New York. We will need access to their past and on-going case histories. This list will help us determine whether or not they are experienced in dealing with your type of case and where applicable. We will also want to know any recommendations they may have for you from other clients. This will enable us to put all the facts together and present our clients with the best case possible.
We will discuss your construction accident injury case with you over the phone. This way we can answer any questions that you may have. We will also determine the next step, after you have given us all the information you need. We will provide you with an approximate time frame for completing your construction project.
If you are unable to continue working, you may be entitled for compensation. Depending on the severity of your injuries, the company you work for may have safety regulations that you must abide by, or an injured worker's compensation program.
We treat all our workers with respect and dignity. Any accident that occurs on the job site should be addressed immediately. We have personal injury lawyers who specialize in workers' compensation claims and other cases like yours. We are prepared to take your case, regardless of whether or not it involves an on-the-job accident. We aim to achieve our goal of reaching a fair settlement for you and/or your workers.
We want to work with you as quickly as possible. However, your case should be treated as an individual case. Your insurance carrier and/or your employer(s) will need to be consulted to handle matters related to your case. We never hire an attorney unless we have dealt with him or her in the past. In addition, we will only accept new clients who supply proper documentation relating to their past construction experience and/or workers' comp policy(s). Please contact us with any questions you may have.
We handle all construction accident cases, including:
Poor safety precautions and oversight
Brazing accidents
Building collapse
Compressor accidents
Collapsed structures
Crane accidents
Cutting accidents
Compressed gases
Dangerous or defective equipment accidents
Defective equipment
Dumpster accidents
Electrical accidents
Elevator accidents
Exposure to toxic substances
Electrical accidents
Falls
Falling objects
Fires and explosions
Forklift accidents
Falls from elevations
Gas explosions
Hoist accidents
Harness accidents
Insufficient training
Ladder accidents
Logging accidents
Mechanical hazards
Misuse of tools
Nail gun accidents
Punch press malfunctions
Scaffolding accidents
Slips and falls
Structure failure
Welding accidents
Wrongful death
And more
Contact one of our Construction Accidents Lawyers
Check also our personal injury page
For direction please click here