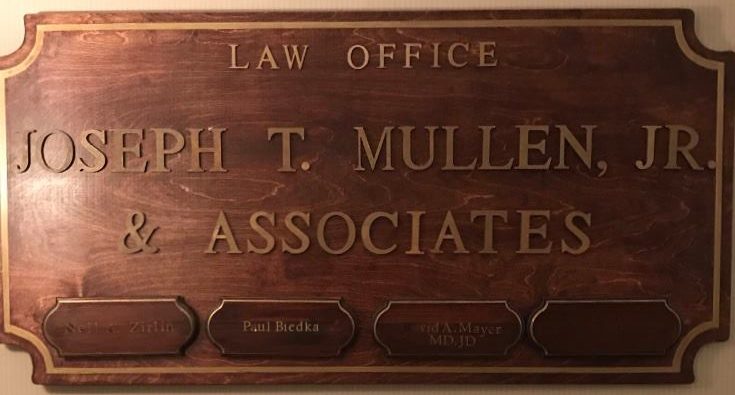 Joseph T. Mullen, Jr. & Associates
Choosing a lawyer to represent you when you sustain an injury can be challenging. Most people — including many of our clients — have never required the expertise and services of a lawyer. Many people are hesitant to consult an attorney. They may be intimidated, or they may not know what a lawyer can do for them, or they may be worried about paying the legal fees.
In reality, lawyers do justice. First and foremost, their work is about justice – articulating it, fighting for it and securing it. Everything else about their practice of law in the service of others flows from there. It is only lawyers who are responsible for helping to secure justice under the law because in our society it is only lawyers who are formally tasked with doing justice for the sick, the injured, the falsely accused; for mothers and fathers, sons and daughters, employees, customers, patients, and citizens.
Since 1984, the firm of Joseph T. Mullen, Jr. & Associates has focused exclusively on personal injury cases and obtaining justice and full and fair compensation for our clients who have sustained injuries or died as the result of:
Motor Vehicle Accidents
Construction Accidents
Product Liability and Mass Torts
Fire, Explosion, and Burn Injuries
Medical Malpractice
Mass Disasters
Nursing Home Neglect or Abuse
Work-Related Injuries
Premises Liability
Wrongful Death
Sexual Assault
Civil Rights Violations
Birth Injuries/Cerebral Palsy
Governmental/Police Misconduct
Maritime Accidents
We are a full-service New York City law firm, specializing in all areas of personal injury, medical malpractice and wrongful death cases. Our resources and scope enable us to take on even the most complex cases for our clients. We believe in treating clients with respect and compassion, and zealously fighting to obtain the highest possible fair compensation for them.
We have recovered in excess of $350 million dollars in settlements and verdicts for clients over the past 35 years. Our attorneys have almost 100 years of combined legal experience. We have represented and obtained full and fair compensation for clients in many high-profile cases, including the pro bono representation of the widow and children of a 9/11 World Trade Center victim whose remains were never recovered and the representation of an electrician who had fingers partially amputated on both hands in a construction accident and whose case established "new law" in the protection of workers under the New York State Labor Law. We treat each client with personal care and attention. Our unparalleled client service is a hallmark of our practice. We handle the vast majority of cases on a contingency-fee basis — we do not charge any legal fees for our time or services unless we secure a recovery, either by verdict or settlement. We offer free consultations and home or hospital visits if you cannot come to our office. We are available 24 hours a day, 7 days a week to address any questions or concerns regarding your claim. We can also represent you in real estate transactions, matrimonial and custody matters, estate matters, criminal cases and many other types of legal matters.
As a victim who is seriously injured in an accident, it can be difficult to figure out just who is on your side and looking out for your best interests. You may have expensive medical bills and no way to pay them and you may be receiving calls from insurance companies and/or collection agencies. You probably do not know if you have a valid claim and how much that claim might potentially be worth. Insurance companies may offer you money to settle your claim quickly, but they rarely, if ever, offer amounts which reflect the true value of your claim. Insurance companies and bill collectors are not your friends — their aim is to take advantage of you during a difficult and stressful time. Hiring Joseph T. Mullen, Jr. & Associates as your attorneys not only protects your rights and best interests, but will give you peace of mind because we handle the complex legal processes while you focus on healing. Our experienced lawyers will take care of the legwork of your case, and take over negotiations with insurance companies on your behalf. If the negotiations do not produce the desired result, our tenacious lawyers can also commence a lawsuit on your behalf to obtain full and fair compensation for the harm that has been caused to you.
There are many personal injury lawyers in New York City and distinguishing among them can be difficult. Joseph T. Mullen, Jr. & Associates has the right mix of experience and enthusiasm to handle even the most challenging and complex case. Since we have been in practice for 35 years, the chances are very good that we have had many cases similar to yours, in which we successfully obtained justice and maximum compensation.
We take a proactive, hands-on approach to every case. That includes visiting the accident site, reviewing all relevant documentation, and looking back on our previous experience to gain insight into the personal circumstances of each case and client. In cases where special or specific knowledge or expertise is necessary, we do not hesitate in hiring experts to not only educate us, but to present a convincing case for you.
If you have questions or concerns, the lawyers at Joseph T. Mullen, Jr. & Associates want to talk with you. You will find us approachable, professional and knowledgeable, and we will leave you with a clear understanding of your rights, your options, and how we can help you achieve your goals. No matter what your personal injury claim is worth — be it hundreds, thousands or millions of dollars — we will treat you with exceptional respect, compassion and unparalleled dedication.
The lawyer you hire will make a difference if you are serious about seeking justice, having your rights protected and recovering full and fair money damages for the harm that was caused to you. Contact Joseph T. Mullen, Jr. & Associates for a free consultation about your injury, medical malpractice or wrongful death claim or any other legal matter that you may have. Call us at 212.766.1177, or email us at Lawyerjtmjr@aol.com any time to set up a free consultation.
SAMPLE VERDICTS AND SETTLEMENTS


$5,500,000 settlement during trial for parochial school students who were exposed to teacher with Tuberculosis
$4,000,000 settlement for construction worker who sustained bilateral ankle fractures requiring open reduction and internal fixation
$3,825,000 settlement for wife and children of September 11 World Trade Center victim whose remains were never recovered (pro bono representation)
$3,800,000 settlement in medical malpractice action for brain-damaged baby with cerebral palsy and seizures resulting from oxygen deprivation to and water on the brain at birth
$3,500,000 settlement for three sisters who were sexually abused by another foster child in the foster home after being placed in foster care by the city of New York
$2,400,000 settlement after trial and appeal for union electrician who sustained partial amputations to fingers on both hands when 800 pound spool of cable broke free while being lowered down stairs with make-shift rope pulley — expanded the coverage of Section 240(1) of the Labor Law to include "force of gravity on objects" in addition to falling worker/falling object cases

$2,225,000 settlement for pedestrian struck by motor vehicle resulting in 26-day coma, skull fracture, traumatic brain injury, numerous fractures and impaired cognitive and perceptive functions

$1,800,000 settlement for construction worker who fell from scaffold and fractured forearm and wrist requiring 3 surgeries and internal fixations
$1,700,000 settlement for construction worker who fell off ladder and required spinal surgery with internal fixation that failed
$1,450,000 settlement for construction worker who fell through unprotected skylight on roof sustaining arm and leg fractures
$1,240,000 settlement for 18- year old as the result of medical malpractice in failing to diagnose cancer
$1,000,000 settlement for construction worker who fell down debris-filled staircase at construction site with no handrail resulting in neck surgery, back and hip injuries
$1,000,000 settlement for passenger in motor vehicle that was rear-ended resulting in spinal surgery with fusion and internal fixation
$950,000 settlement for passenger on interstate bus involved in a collision resulting in traumatic brain injury

$875,000 settlement for children of mother who died as a result of failure to diagnose and treat Crohn's Disease 

$745,000 settlement for motorcyclist struck by NYPD vehicle resulting in hip and ankle fractures, both of which required open reduction and internal fixation 

$700,000 settlement for pedestrian who slipped and fell on sidewalk that was not properly shoveled/treated after ice and snow storm resulting in severely comminuted and displaced right arm fracture requiring open reduction and internal fixation and additional surgeries 

$500,000 settlement for tenant of apartment building who tripped and fell while descending stairs that had just been mopped resulting in fractured left shoulder and multiple surgeries

$500,000 settlement for home healthcare worker who tripped and fell due to mis-leveled elevator resulting in closed head injury, impaired cognitive functions, neck, shoulder and back injuries 

$390,000 settlement for passenger in Police Department van that ran red light and struck another vehicle resulting in injuries to neck, back and shoulder 

$350,000 settlement for motorist who sustained injuries to neck, back and shoulder when tree fell on his vehicle 

$275,000 settlement for pedestrian who tripped and fell on raised sidewalk flag resulting in tri-malleolar fracture of ankle requiring open reduction and internal fixation 

$260,000 settlement for pedestrian who was thrown to the ground by unrestrained dog and sustained fracture to hip which required surgical pinning and fracture to spine 

$250,000 settlement for commuter who tripped and fell on defective step on staircase in Penn Station resulting in multiple shoulder tears requiring surgical intervention and fractured rib 

$240,000 settlement for pedestrian crossing street who was struck in crosswalk by turning bus resulting in crush injuries and fractures to her hand 

$225,000 settlement for bystander who was assaulted by police officers and detained without being arrested who sustained injuries to his face, hand and legs